1.Do I need to pay extra VAT tax or custom duties?
You needn't pay VAT tax, it is included in the price.About customs duties,If you choose shipment way"priority delivery",you needn't pay extra customs duties;If you want "express shipping" service(Carton packaging,faster shipping and better delivery service),you could contact us at [email protected] to choose proper express shipping to ship your order and avoid customs duties.Or in rare cases, you may have to pay customs duties;For high-value orders, we will automatically choose the appropriate express delivery method and try to avoid customs duties.
2.Does diamond painting include diamonds and tools?
Yes,each diamond painitng includes all necessary tools and accessories,you could finish a diamond art with them.
3.Tips for finding other products that are similar in style to a product
If a product's sku is 902928.08, please search for 902928 so you can find other sub-styles.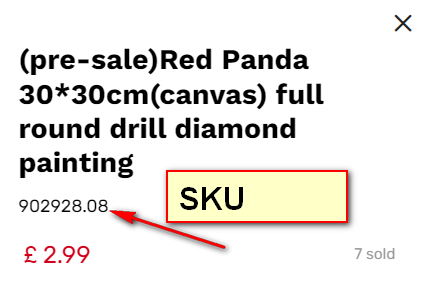 4.I received e-mail that I got points , how do I use them?
Please you could log in and click the red diamond logo in the lower left corner of the screen as it shows below,then you will know how to get and use points.

5.Why the logistics information of the order shows that only part products are shipped or it shows all products are shipped but I only receive part of them?
Sometimes we will split the order into two or more packages for shipment;Sometimes due to the necessary operations of the customer service personnel on your order in the delivery system, the logistics information has changed but you have not been notified in time.Welcome to contact us for confirmation.